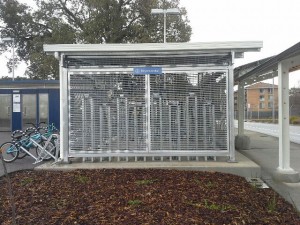 A recent upgrade of the Queanbeyan
Bus interchange involved Leda
designing, manufacturing and installing
a galvanised steel bike cage and bike
parking.
The facade is clad with modular
anti-climb mesh panels and
caters for 28 cyclists internally using our Securabike (CBR2GS)
dual height racks. Additional casual bike parking is available externally
for 8 cyclists in our CBR4B delta bike racks. Securabike
dual height racks were selected to best utilise the internal space
available inside the cage. Cyclists wishing to use the cage on a
regular basis
can gain access by obtaining a key from Queanbeyan
Council.
Leda contracted with the builder Dale and Hitchcock for the end
client Queanbeyan City Council.